One of the best parts of traveling with Winter Jam is the stories people come and share with me each night after I share.  Here are a few.
Last week, a gentleman came to the signing table with his two adorable daughters.  He shared that someone had sent him a book while they were serving in India as missionaries.  They used the book as part of their devotional.  They would read a chapter together then search God's word to help them understand God's heart and His passion for the vulnerable through my childhood!  The book changed their family for the better!    These two girls would pray at nights for me and also tell God that one day they wanted to meet me.  They had no idea that I was traveling with Winter Jam.  The girls were blown over that God heard their prayer and got to meet me!  The tour in itself is not my forte but stories like this keeps me focused!  Thank-you again for standing with me! ❤️❤️

Another God story!  After I speak, I sign books.  My ears are open to hear each comment!  I always want to stop and really listen but can't since I have 15 minutes before the next band starts and lights go down.   Two nights ago, after signing on the floor level, I went up to the main concourse to sign and greet the volunteers of "Holt International."  A gentleman with a "I have adopted" apron came up to chat.  He asked where we were from.  When we told him, he said they just adopted two boys who had come to them through a disrupted adoption in Medford.  My body started shaking because I knew which boys he had adopted.   Darryl and I had prayed and even tried to see if we could adopt them.  We could not!   Their story was so tragic.  These two boys and their little sister had lost their last relative (their grandma).  Before she died, the oldest had made a promise that the three of them would not be separated!–Skip much—they were adopted by a professional couple in Medford which was another hell for these children–skip much—one day this mom just dropped the boys off at a homeless shelter refusing to care for them but kept their sister–this is when my friend Cindy stepped in.  They were temporarily placed with another good friend who also had adopted children.  Everyone of us began contacting everyone we knew.–Skip much—The gentleman and his wife were at a Orphan conference and the wife read the e-mail and her heart broke!  She describes herself as not a crier! She knew at that moment these boys belonged to them.  She had met them in Ethiopia when they were adopting their sons!–Skip much—They went and got the boys and joined them to the six they already had!  BUT, the boys still were heartbroken due to the fact that their sister was not with them.  Six months later, the woman who had abandoned these boys called asking if the family wanted the girl also–skip much—prayers does work!  God will work out the desires of our hearts–God will not forsake the works of His hands–the parents had no finances to go and get this precious girl.  The abandoning parent brought the girl to them in the end.  Now the family was complete with nine amazing children.  As the abandoning parent stepped into their home, the start of healing and forgiveness began!  This amazing young man hugged and hugged me thanking me for believing and praying!  I played a drop in this drama of God moving mountains to rescue these children, but boy was I on cloud nine!  I had to call my friend Cindy right away to say, "thank-you for your constant love for orphans. Your sacrifice were rewarded."  Yeah, God!!!!!!  Yeah, God!!!!  Yeah, God!!!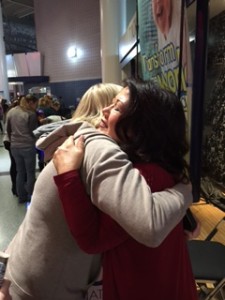 What can I say!  A young woman came to the table, not to sponsor but to share this story.  Several years ago I came here to minister.  She came up front to be prayed for.  I prayed over her.  At first she did not know what to think.  As she opened her eyes to look at me, she saw Jesus behind me.  She did not see his face but she knew it was Him.  He told her to listen close.  Her spirit began to respond, healing took place.  She has always wanted to let me know and here I was tonight!