The joy given to us through His Spirit is not just for us, but for this joy to spill over to bless others . The fruit of the Spirit-JOY- being a part of the fruit-flows through us to change the atmosphere and people. Each one of us is the reservoir and it overflows naturally into others! Let's not control the flow! Let's be generous in sharing all the Fruit of the Spirit.
But the fruit of the Spirit is LOVE-JOY-PEACE-LONGSUFFERING (I still need more of this)-KINDNESS (I am learning kindness is better than being right) GOODNESS-FAITHFULNESS-GENTLENESS-SELF CONTROL,  If we live in the Spirit, let us also walk in the Spirit! Gal. 5:22-23,25
I am learning more and more that I have been given the power and the authority to change the thermostat of my surrounding! To align and call my spirit to attention to agree with His word and follow His voice!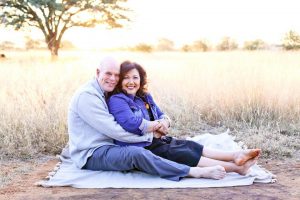 Photo by Maryke Schoonwinkel Klerksdorp South Africa June 6, 2018 for our 45th Anniversary!